Frank Spragins And Alberta Health Services Program Oh Baby Program is in the news!
Oh Baby!
September 26, 2017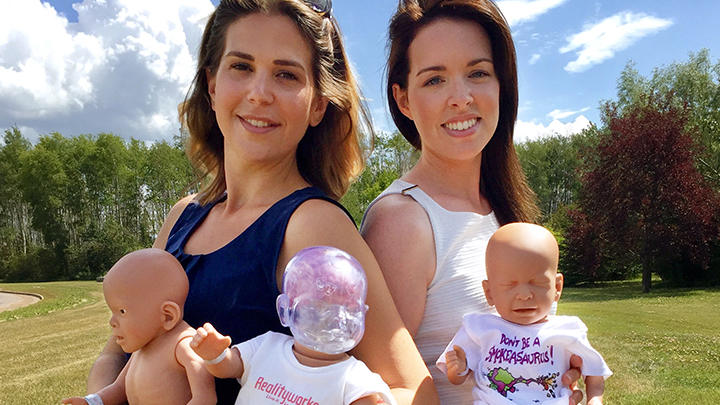 New AHS program teaches students all about baby care and parenting
Story by Lisa Laferriere and Tricia Kindleman-Podolksi
FORT McMURRAY — Students here are learning lots about babies and the care they need to thrive.
The new Oh Baby program of Alberta Health Services (AHS) educates teens about how to care for newborn to preschool-aged children. The goal is to ensure they will be trusting caregivers to their own future children and to the children currently in their lives, such as siblings, nieces and nephews.
First to participate was Frank Spragins High School, where one of the teachers who brought the program to her students there says it was a great success.
"The kids loved the program," says Sarah Hiscock. "They found it fun and informative. Even one of our teachers, who happens to also be a new dad, participated and got in on the fun — so it really brought the staff and students together. I am so elated that AHS offers such a program."
The program, launched in early 2017, is now available to all schools in the community.
"We want to inform and empower students," says Karina Higgins, an Infant and Child Development Coordinator with AHS who helped develop the eight-week program.
"People from the ages of 16 to 18 get a lot of information about babies from their friends — they don't typically seek out advice from professionals. But now, with Oh Baby, we're coming to them to give them that opportunity."
To help launch the program, Higgins attended a school board meeting where she pitched the program and talked about what it offered.
"The focus of the program is not sexual health or pregnancy; it's about the skills needed to care for a baby and ensure they thrive. It helps teach students basic infant care, milestones, proper growth and development, and teach them about other community supports that can be accessed."
The program is suited to both male and female students; those who complete it earn credits towards their high school diploma.
"We heard a lot of students who completed the program say that it was helpful not because they were planning on having babies right away," says Higgins, "but because it gave them more confidence to spend time with the babies currently in their life, such as their nieces and nephews. That is a really special skill to have at a young age."
Sara Ford, also a Child Development Coordinator with AHS, worked with Higgins to develop the program.
"While other programs like this do exist in the community, they tend to attract an older group of people, making teens feel awkward and out of place," says Ford.
"But by bringing the program to them, many teens are taking the time to learn more about the care of a small child."
Oh Baby also includes a variety of teaching tools.
"Some of the activities are fun and lighthearted, including a pretend baby shower complete with obstacle course," says Ford. "But other parts of the program talk about some of the tougher aspects of parenting."
One portion of the program that touches on these aspects includes working with realistic dolls that represent different health challenges.
One of the dolls represents a baby affected by Fetal Alcohol Syndrome. A second represents a baby born addicted to drugs. A third doll represents a shaken baby — whose parts of the brain light up and can be seen through its transparent head — to demonstrate which areas can be affected by being shaken.
"The program is really educational and relative. We hope more schools show interest and sign up for it," says Ford.
Oh Baby is available to all schools in Fort McMurray. For more information, please call Higgins or Ford directly at 780-714-5616.